Alport Syndrome Case Study to Be Presented at AAO Annual Meeting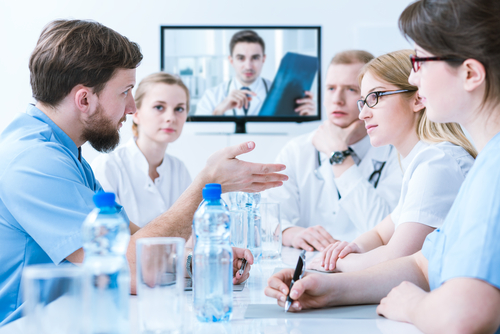 A case study of Alport syndrome will be the subject of an oral presentation and discussion at the 96th annual meeting of the American Academy of Optometry (AAO), Oct. 11-14 in Chicago.
Titled "A Mutation in the Basement: Case Discussion of Alport Syndrome," the case study will be presented by Dr. Timothy Bossie, OD, assistant professor of clinical optometry at New England College of Optometry and director of eye care service at Lynn Community Health Center (LCHC) in Lynn, Massachusetts.
Alport syndrome patients commonly present kidney problems characterized by impaired filtration function that in more severe situations can lead to kidney failure, treatable only by kidney transplant.
However, Alport patients can also have altered vision, vision structural abnormalities, and hearing loss. All of these symptoms are caused by gene mutations that encode the complex structure of collagen IV.
Collagen IV is a structural fiber that is essential for maintaining some cellular membranes close together. When collagen fibers are defective or are not expressed due to the genetic mutations, the cellular membranes cannot communicate properly, leading to impaired function of the affected organ.
More than 1,200 unique genetic mutations have been associated with the development of Alport syndrome. The severity of the symptoms presented depends on the mutations that are present, which collagen sequences are affected, and how they are affected.
In the educational presentation at the AAO annual meeting, Bossie will present the case of a 17-year-old boy from Puerto Rico.
The initial complaints that led the boy to the school-based Lynn Community Health Center were headache and sinus tenderness. He had a history of kidney disease in his family, with his mother on dialysis, and had already been evaluated for kidney symptoms during childhood.
At another appointment with an LCHC primary care physician, the teen complained of blurry vision and reported that his mother had some hearing issues.
Based on the family and personal histories of the patient, the physician considered a possible diagnosis of Alport syndrome. To confirm this, tests for the patient's kidney, eyes, and hearing were requested.
The referral clinical appointments confirmed the presence of dot-and-fleck retinopathy and retinal thinning, which are clear manifestations of Alport syndrome. The young man also presented mild-to-severe bilateral hearing impairment, and tests confirmed kidney dysfunction with increased levels of protein excretion.
Taken together, the complete evaluation of the patient revealed clear symptoms of Alport syndrome. An additional genetic analysis of collagen IV genes could help confirm the type and severity of his condition. However, this was not possible because the patient returned to his country of origin.