X-linked Alport Syndrome Explains Blood in Urine of Man with Rheumatoid Arthritis, Study Reports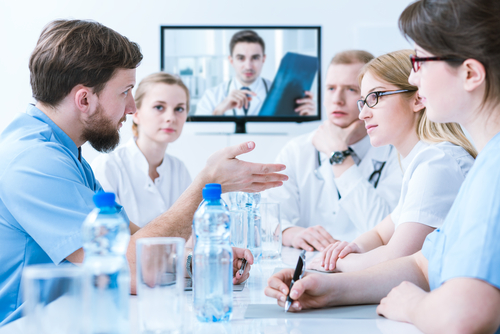 Genetic tests led to the diagnosis of X-linked Alport syndrome in a man with rheumatoid arthritis (RA), explaining the finding of small amounts of blood in his urine, according to a case report.
The research, "An overlap of Alport syndrome and rheumatoid arthritis in a patient and literature review," appeared in the journal BMC Nephrology.
Although both Alport syndrome and RA may involve renal complications, hematuria (blood in urine) and ocular abnormalities, reports of patients with both disorders are rare.
The team at Aerospace Center Hospital, in China, detailed the case of a 44-year-old man admitted to the hospital on Jan. 9, 2018, due to joint swelling and pain mainly in the hands, shoulders and wrists. These symptoms had been partially eased with hyperbaric oxygen therapy, but the pain in his right shoulder joint had worsened.
His medical history included progressive hearing loss and microhematuria, which also refers to blood in the urine but in quantities too small to change its color. The patient's daughter also had a history of microhematuria.
On physical examination, his blood pressure, body temperature, respiration rate and pulse rate were all normal, with no abnormalities found in the lungs, heart and abdomen. In both hands, interphalangeal and metacarpophalangeal joints showed mild tenderness but no obvious swelling.
Urine analysis revealed hematuria and microalbuminuria – small urinary amounts of albumin, indicative of kidney damage. Blood tests indicated normal levels of inflammatory markers and unchanged liver function, though the levels of uric acid were moderately increased.
He showed elevated amounts of rheumatoid factor and markedly high levels of ACPA antibodies (above 250RU/ml), which are typical in patients with rheumatoid arthritis. A kidney ultrasound showed diffuse changes in the parenchyma — which includes the renal cortex and the renal medulla — and multiple cysts with partial cystic wall calcification (calcium accumulation).
A hearing test suggested binaural sensorineural deafness, a type of hearing loss caused by damage to hair cells of the inner ear or to the nerves connecting them to the brain. No abnormalities were found on eye examination.
Based on the laboratory findings and the joint swelling and tenderness, the patient was diagnosed with early RA. However, he underwent a renal biopsy to better understand the cause for his hematuria.
On microscopy, he showed mild glomerular lesions, chronic tubular and interstitial lesions, and detection of immunoglubulins M and A, key early lines of defense against infection. Changes seen on electron microscopy included thin glomerular basement membranes, edema (swelling), and infiltration of lymphocytes into the kidney's interstitium, which supports the parenchyma.
Altogether, the patient's microhematuria, hearing loss, and thin basement membrane nephropathy (kidney disease) made the team suspect Alport syndrome.
A subsequent genetic test found a mutation (p.Cys451Arg) in the COL4A5 gene, which encodes the alpha5 chain of type IV collagen in the X chromosome. Along with results of computer-based analyses to determine the impact of this missense mutation — a change of a single nucleotide, the building blocks of DNA — this finding led to the diagnosis of X-linked Alport syndrome.
"Therefore, the appearance of microhematuria before RA in this patient was mainly the result of Alport syndrome, and had no correlation with RA," the scientists wrote.
As of the study's completion, the man was being treated with glucosides of peony (plant extracts) and leflunomide for RA, and Cozaar (losartan potassium, by Merck) at 50 mg to preserve the kidney. Over 10 months, his joint swelling and tenderness had eased, but no relevant changes were seen in his microhematuria, and his proteinuria (abnormal amounts of protein in urine) had worsened.
"Although the overlap of Alport syndrome and RA in present case may be occasional, abnormal type IV collagen might participate in the pathogenesis of RA, which needs more related case reports and studies to prove," the team added.